"The Tournées Festival"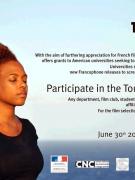 Critically acclaimed French film LE BONHEUR D'ELZA, a riveting 80-minute story by Mariette Monpierre shot on location in Paris and the French West Indies, is now available for purchase by institutions. This new release explores the emotional journey of a young Parisian woman who returns to her native island of Guadeloupe in search of the father she has never known. Based on the real-life experiences of the filmmaker and the growing issue of American and Caribbean children who are estranged from their fathers, LE BONHEUR D'ELZA is a powerful educational tool, in French with English subtitles.
LE BONHEUR D'ELZA made its U.S. theatrical premiere in December 2012 and was the New York Times Critics' Pick.
http://movies.nytimes.com/2012/11/30/movies/elza-by-the-writer-and-director-mariette-monpierre.html?_r=0
The film is also an official selection of the Tournées Festival, a program of FACE (French American Cultural Exchange) in partnership with the Cultural Services of the French Embassy, which aims to bring the best of contemporary French cinema to American college and university campuses. You can view the trailer and read the film synopsis at their website:
http://facecouncil.org/TourneesFestival/le-bonheur-delza-elza/
You can apply for a FACE grant to bring ELZA to your classroom by completing an application at:
http://facecouncil.org/TourneesFestival/application/
The number of grants given per year is limited. If your institution is not able to receive one, please contact Mariette Monpierre directly to purchase the DVD at a discounted price.
Director Mariette Monpierre is also available for speaking engagements. Some of Ms. Monpierre's appearances have included CUNY, the University of North Carolina at Chapel Hill, the University of Ottawa, Smith College, UMass, University of Rochester, Lycée Français NY, Denison University, Kent University, Boston University, Spellman College,Seton Hall, Hobart College, University of North Carolina at Charlotte, Indiana State University, and the French Institute in London, etc.
For more information about the film, we invite you to visit the website @ www.elzathemovie.com
Thank you for your time and consideration.
Contact:
Mariete Monpierre
OverEasy Productions
Cette adresse e-mail est protégée contre les robots spammeurs. Vous devez activer le JavaScript pour la visualiser.
INLINE IMAGE 4