"Journal of African Cinemas"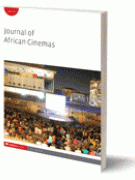 "The Journal of African Cinemas will explore the interactions of visual and verbal narratives in African film. It recognizes the shifting paradigms that have defined and continue to define African cinemas. Identity and perception are interrogated in relation to their positions within diverse African film languages. The editors are seeking papers that expound on the identity or identities of Africa and its peoples represented in film.
Abstracting & Indexing

International Bibliography of the Social Sciences (IBSS), Modern Languages Association, Film and Television Literature Index, International Federation of Film Archive (FIAF), Ulrichs, International Index to Film Periodicals, TOC Premier, British Humanities Index, EBSCO; International Index to Black Periodicals (IIBP);"
The Journal of African Cinemas.